New Trier East High School


Class of 1975
Echoes, Reunion Tips & More
Here is a link to Echoes 1975 (You have to register to see individual pages)
OR HERE IS A LINK TO SEE THE OPENING PAGES AND ALL THE SENIOR PHOTOS: https://www.dropbox.com/s/4g8nrrdj558rgyo/NTE.pdf?dl=0
THANK YOU ANNE TIFFEN TAYLOR!!!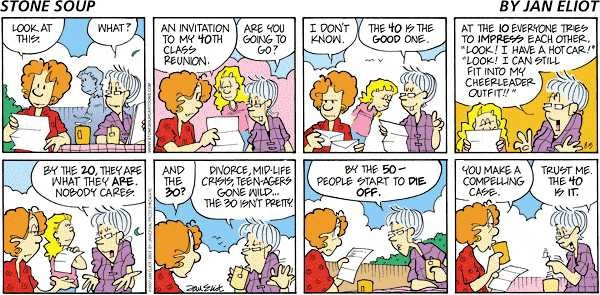 R - remember that you are no longer a kid and that you have grown into a mature adult. By this time in your life, most people have left the immaturity behind.
E - everyone has some doubts as to meeting former classmates. It's all right to be a little scared and nervous. You may be surprised to find out that a lot of others feel the same way.
U - usually nerves will be involved. Don't panic by worrying about a few extra pounds or fewer hairs on your head. After all these are the best years of your life, so don't sweat the small stuff.
N - no one is perfect. It has been 40 years since school so everyone will probably have had difficult things occur in their lives. Remember you are not alone in this category.
I - I is not a letter in the word me. Don't make everything about you. In other words, don't brag too much about your successes. There may be other people there that haven't had it as nice as you, be kind.
O - only go to your reunion with a positive outlook. Most unfortunate or embarrassing things that happened will be forgotten by now. If not, just remember that these situations made you who you are today.
N - never forget to tell people how you care about them. You never know if everyone will be together again in the next 5 or 10 years or so. Life happens and you might not get the chance to tell them later.